TALIB SYED, P.E.


Summary of Qualifications
Mr. Talib Syed has over 38 years of domestic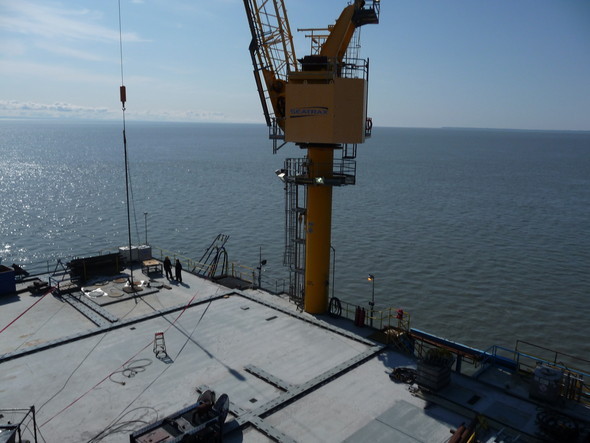 and international experience in the chemical and oil and gas (exploration and production) sectors. His work areas have included chemical process engineering in Frankfurt, Germany, petroleum engineering (production of oil and gas both off-shore and onshore) in Saudi Arabia, and in oil and gas E&P production/operations and waste management, wellbore integrity and injection/disposal wells in the United States (since 1982).
Mr. Syed currently heads a consulting company (Talib Syed & Associates, Inc. – TSA) headquartered in Colorado. He is a registered Professional Petroleum Engineer in the states of Colorado (PE # 32507) and Wyoming (PE # 8638). He has been supporting exploration and production of oil and gas and injection/disposal well related work in the U.S. since 1982 and in Alaska since 1999 (both in the North Slope fields - Prudhoe Bay, Northstar, Badami, Milne Point, Oooguruk, Nikaitchuq, Liberty, Point Thomson and Alpine/Colville River as well as in Cook Inlet/Kenai) and is familiar with the engineering and geology of most major oil and gas geologic provinces in the U.S. His recent work areas have focused on well construction – casing design and cementing, well integrity, solids injection (fracture slurry injection), CO2 geologic sequestration, and hydraulic fracturing/stimulation of tight oil/gas reservoirs
Professional Experience
Talib Syed & Associates, Inc., (TSA, Inc.), Centennial, CO (1995 to present), Consulting Petroleum Engineer
Hydro-Search, Inc., Denver, CO (1992-1995), Senior Engineer
Engineering Enterprises, Inc., Norman, OK (1982-1992), Consulting Engineer/Director
University of Oklahoma, Norman, OK (1980-1982), Petroleum Engineering Teaching Assistant
Chevron Services Company, Houston, TX (Summers 1980-1981), Petroleum Engineer
ARAMCO, Saudi Arabia (1974-1979), Petroleum Engineer
Hoechst A.G., Frankfurt, Germany (1972-1973), Chemical Process Engineer Trainee
Education
B.S. in Chemical Engineering, University of Madras, India, 1971
M.S. in Petroleum Engineering, University of Oklahoma, 1983
Various Petroleum Engineering Industry Courses.
Senior Management Training Programs, Harbridge Consulting Group (Boston and London), 1991.
Executive Small Business Management Courses – Tuck School of Business, Dartmouth.
Registration and Professional Affiliations
Registered Professional Engineer in Colorado and Wyoming
Member (since 1977) - Society of Petroleum Engineers (SPE)
Member - Interstate Oil and Gas Compact Commission (Alaska State Appointment)
Member - Ground Water Protection Council
Member – American Institute of Mechanical Engineers (AIME)
Selected Project Experience Descriptions
Petroleum Industry Experience
Petroleum Engineer for oil and gas production in largest onshore and off-shore fields in the world (Safaniya and Ghawar fields - Saudi Arabia).
In-depth experience and knowledge of production operations. Well testing, reservoir engineering, geophysical logging, drilling, completion and workover operations.
Experience in EOR/Water flood operations and treatment/disposal of produced water for enhanced oil recovery operations.
Expertise in design and application of selected EOR techniques - CO2 flood, Water Alternating Gas (WAG), steam-flood, caustic flood, polymer flood etc. to enhance oil recovery.
Expertise in upstream oil and gas E&P (exploration and production) and regulatory compliance.
Expert witness on behalf of several oil and gas producers in permitting salt water injection wells and alleged salt water contamination cases in Oklahoma.
Petroleum engineering and regulatory consultant to EPA for North Slope/Cook Inlet of Alaska (since 1999) in the areas of slurry fracture injection and well integrity for Class I and II injection wells. Major operators include BP, ConocoPhillips, Eni, Pioneer, Cook Inlet Energy, Chevron and ExxonMobil. Current area of focus also includes CO2 geologic sequestration studies (for both CO2 EOR and CO2 GS wells).
Hydraulic fracturing/stimulation of shale/tight gas/oil (unconventional) reservoirs.
Potential impacts on drinking water resources related to well design and cementing practices from hydraulically fractured well.
Participated as a subject matter expert in workshops held by EPA in 2011 and 2013 on well construction and integrity of hydraulically fractured wells.
Participated as an invited subject matter expert on hydraulically fractured wells at National Governors Association (NGA) meeting in Philadelphia, PA in April 2015.
Provided expert witness testimony related to an uncontrolled well release incident litigation case in 2014.
Provided Due Diligence support on oilfield property transactions.
Presented Workshop on "Wellbore Integrity throughout its Lifecycle" for PTTC – Golden, CO, Wichita, KS, Midland, TX, Morgantown, WV and Long Beach/Huntington Beach, CA in 2013 and 2014. Also presented this workshop for GWPC in Austin, TX in March 2015.
Participated and made presentation on Wellbore Integrity at SPE's High Pressure High Temperature (HPHT) Forum in Chennai, India in May 2015.
Presented Workshops on Injection Well Technology – Technical and Regulatory Aspects in Denver, CO and San Francisco, CA (2010 – 2012).
Publications
Mr. Syed has widely published and presented papers in several professional technical conferences and journals in the areas of E&P related production operations, wellbore integrity, underground injection and/or disposal, and oilfield waste management.
References
Available upon request.